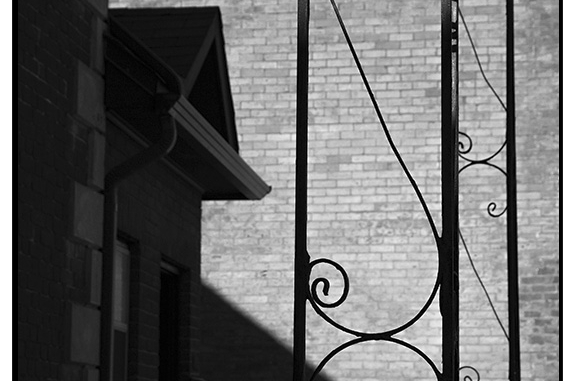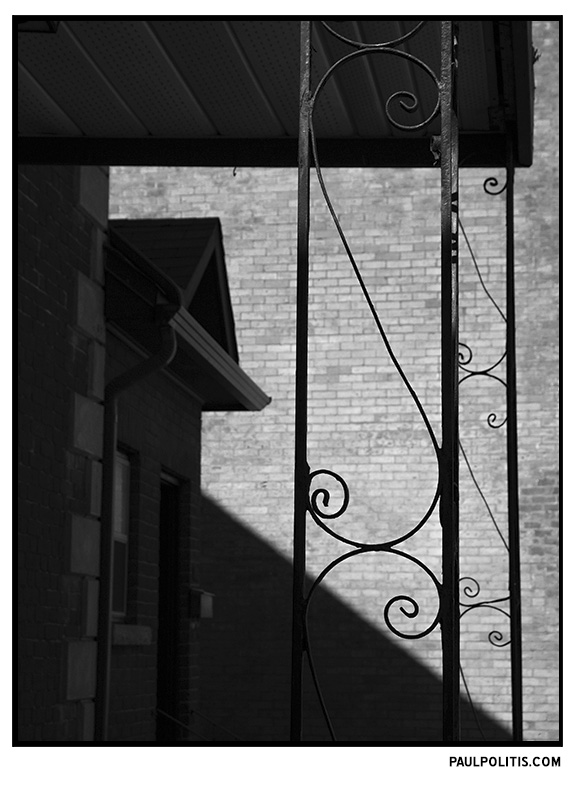 This photo is of some metalwork in front of an old building that I've wandered past from time to time. The sun was throwing a nice diagonal shadow which is something that seems to always catch my eye.
I tend to wander the same areas, almost compulsively, which can be tedious. But I'm stubborn and on occasion I'm rewarded with photos I find beautiful in some sense and which I strive to understand as divine encouragement.
***
Last month I picked up a copy of the recently published Lee Friedlander, and I'm glad that I did. At almost 400 pages and with high quality reproductions the price is certainly not unreasonable.  It's a retrospective book, with images selected from throughout his career.
No photographer's work appeals to me quite as strongly as Friedlander's. Much of it embodies what I respond to so strongly in photos, and in the world with my own camera. His work is often inventive, intellectual, clever, witty, curious, and gorgeous. His best work, of which there is plenty (he's been photographing for over 60 years!), is varied yet always recognizable as his own, I would say. His influences, like Eugène Atget and Walker Evans, are often evident in his early work, and getting a small glimpse of his evolution throughout his career in this book is fascinating. I'm familiar with more of his work than is in this book through several other of his books that I have, but this book offers a bit of an overview and progression.
The book also contains several good essays/interviews and an interview with Friedlander's wife, Maria, that sheds light on Friedlander as a man and driven artist and … well, I hesitate to psychoanalyze/project.
Highly recommended.